I returned to Spain and joined the Cape Shore in San Carlos de la Rapita on 29-08-1973. This was a perfect job in the sunshine, only spending one or two nights at sea a week and never far from land. The occasional rig shift was included and before long we moved the rig round to the Bay of Cadiz and worked out of Puerto De Santa Maria.
After an enjoyable three months I went on leave on 20-11-1973. Whilst on leave I was asked to standby on a ship in Great Yarmouth over the Christmas and New Year period so joined the Essex Shore.
Rejoined in San Carlos de la Rapita on 19-02-1974 making a much appreciated return from the North Sea. Life was pretty good once again and I had a local girl friend who later became my wife. We towed the oil rig to Almeria for repairs, spent time in dry dock in Barcelona and eventually towed the rig to a location off the Portuguese coast where we were based in Setubal. Left the ship on 31-08-1974 and headed home.
It was now time to return to college and study for 1st Mate's Certificate so I enrolled once again at Lowestoft Marine College.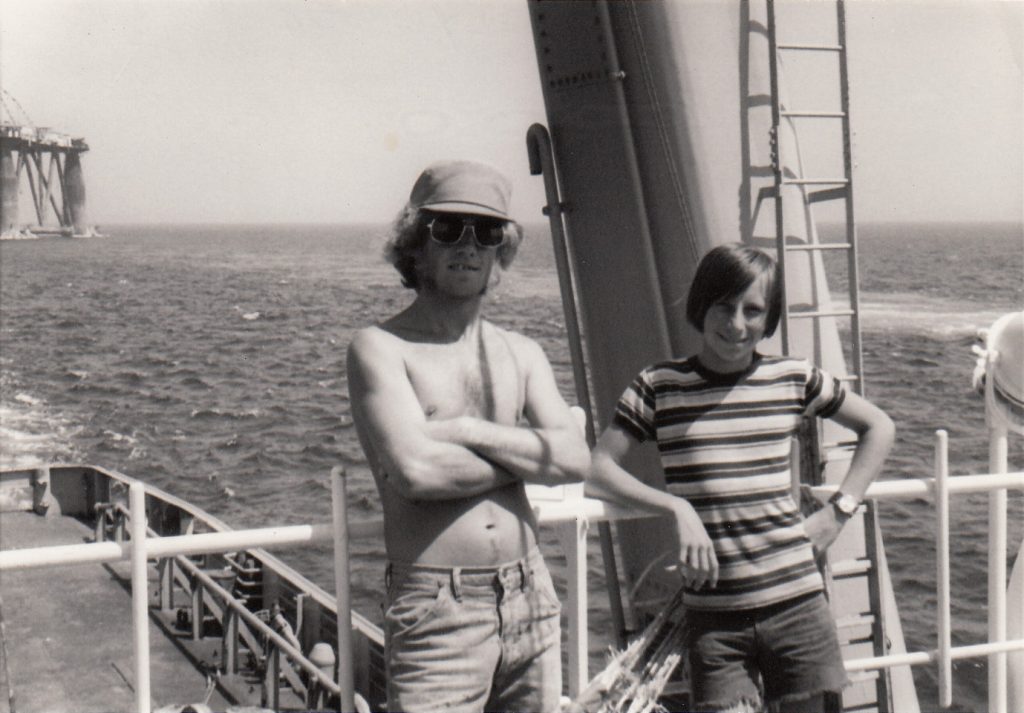 Towing a Sedco rig and posing with the cook's son on summer holiday.
On the right myself, cook and chief engineer taking some local girls out for a spin around the bay.