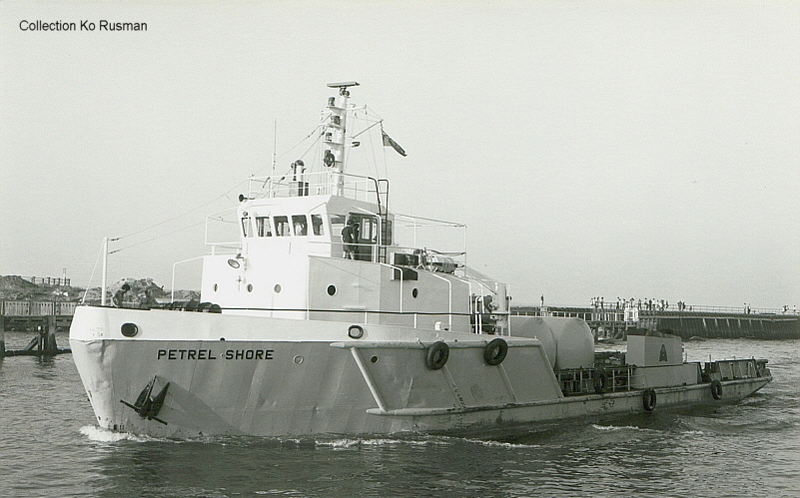 Not the best or biggest ship in the world, in fact she was supposedly built with money left over from another project. However this ship had quite an influence on my life. In the first week of January 1971 I traveled to Port Gentil in Gabon to join as AB. Supporting the drill ship Glomar 4 was easy with two nights a week in port and almost always good weather. The time flew by and I left on 13-04-1971 via the oil company crew change plane to Las Palmas. Spent time as cook when the real cook paid off sick and also as '2nd Engineer' for a day or two when the real one went missing.
After my leave I returned via Las Palmas and spent from 03-06-1971 to 16-09-1971 onboard before traveling back to the UK the same way. From what I had so far seen of the qualities of the Mates on this ship and the Pacific Shore I was certain that I could do better so during this last trip and subsequently I started studying in my free time with a view to obtaining a 2nd Mates Certificate. This lead me to enrol at the South Shields Marine College but the course had already started and I found it hard to keep up with the other students who were mostly cadets with more knowledge.
Not to be disheartened I left and after Christmas I enrolled at Lowestoft College where the staff were more sympathetic and I made progress. However I failed my exam and to get some watch keeping experience I joined the John M and spent the summer sailing around the UK coast. I returned to college for the new term and passed my exam and joined the Ocean Shore as 2nd Mate in November.
I later joined the Petrel Shore on the 13-03-1973 as Mate. Joining in San Carlos de la Rapita in Spain and leaving at Milford Haven on 25-06-1973. This was pleasant in contrast to the previous tour on the Ocean Shore off Newfoundland.
I also spent another couple of days signed on as Mate in Great Yarmouth during the last days of December 1973.
I returned to the Petrel Shore for the last time on my first tour as Master. Joined on the River Tees on 20-06-1975 and left 24-07-1975 supporting a pipe laying barge on the Ekofisk-Tees pipeline. Interestingly I was the youngest man on board.